The Fighting Bunch is a book I've been excited to be able to tell people about. It's an astounding and rarely told story of a (eventually) successful response to police violence and voter suppression. It's a story of a community acting with unity against an intensely oppressive and corrupt institution. But it's a dangerous story, too — one of violent insurrection. The author, Chris DeRose, has worked for much of his life as an election law attorney, and it's hard to imagine a better person to tell a story like this. And it's apparent in how the story is told with comprehensive sobriety and very little of his own interpretation. There's a distinct sense throughout that this book is an accounting — not a sensationalizing — of the facts, and that's of great value in a book that's describing the only successful armed insurrection in the United States.
Historical accounts of communities prevailing over greed and terror are useful even just as evidence that it's possible to have a positive effect in the world. Historical accounts of police corruption are effective at legitimizing the assertion that police corruption today is a more serious issue than many Americans seem willing to admit. It's not a new issue, and it wasn't a new issue to Athens, Tennessee, where The Fighting Bunch (mostly) takes place, when Paul Cantrell was elected as sheriff in 1936.
Cantrell ran with a pledge to end the prior department's improper arrests and "fee grabbing" policies (unnecessary arrests for the purpose of acquiring fees that enriched both the department and the individual officers), but quickly showed he had no intentions of following through. Six months later, one of his deputies broke into twenty-three-year-old Carl Voile's bedroom and shot him to death. Less than a year later, the same deputy beat a man in his sixties with a blackjack in front of his children, killing him. Both families attempted to press charges and both cases were dismissed. The next 10 years of McMinn County's history was filled with heightened violence, with Cantrell protecting his deputies as they grew more and more bold, and controlling local elections with consistent violence and blatant disregard for the democratic process.
Some of the violence can feel shocking, even absurd. The book is full of accounts of vote counters threatened at gunpoint and beaten by police. There's a story of a local pharmacist shot by two deputies while he was on the phone in his own drugstore, and another about a sixty-year-old man shot in the shoulder for refusing to be turned away from the ballot box. Other stories feel especially familiar, including repeated examples of police brutality and murder and unnecessary arrests of citizens targeted for personal and department funding. There were also the familiar bureaucratic means of voter suppression, like the "Ripper Bill" that reduced polling places from 22 to 12 in the county, and poll taxes being used as an opportunity to deny opposition voters. Many Americans are familiar with stories of police violence and attempts to manipulate and exploit the democratic process, but DeRose knows what it means to position the tactics of "the machine" (the local name for Cantrell's political machine) against the events of WWII.
In our cultural memory, WWII might be the last major conflict the United States participated in that doesn't feel immediately shameful, mostly because we trust that we were fighting against the very things Cantrell's machine represented: state-imposed terror, power of the few over the many, personal gain over the common good. DeRose spends the first half of the book showing the rise of "the machine" in McMinn County, juxtaposed with the wartime experience of Bill White, who as a Marine participated in some of the hardest fighting in the Pacific Theater. To White and his fellow GIs, this hypocrisy was obvious. They'd been told again and again they were fighting to defend freedom and human rights overseas, but at home their families and friends felt the fight was right in front of them. DeRose quotes an Athens, Tennessee department store owner writing to the Department of Justice: "We who call ourselves Americans have looked down on Hitler and his methods but here in McMinn County we have conditions which make Hitler look like an angel with a dirty face."
There's a surprising amount of time devoted to Bill White's wartime experience. In terms of the material history of the Battle of Athens, it's pretty irrelevant. But as an example of the real and not-entirely-well-known experience of soldiers who fought and as a huge piece of the emotional history of the Battle of Athens and the people behind it, it's essential. It's also a wise choice to front-load any story of armed insurrection with as much explanation of the situation and people involved as possible. Some of this explanation can get pretty muddled. It's a complicated story, yes, and while DeRose handles it well, there are often moments that seem markedly irrelevant, and there are really startling jumps in setting and context. If you have patience for those moments, it's well worth the trouble.
The most organized resistance to "the machine" doesn't appear until nearly halfway through the book. American history is littered with stories of violent labor struggles against oppressive industries and brilliant long-term activism against government-supported terror and injustice. Much less often do we hear satisfying and successful conclusions to all that work. And recently we've witnessed the worst kind of parody of real political action in the insurrection at the Capitol in January of this year. It's important that we read history like The Fighting Bunch. It's not a story about "good people on both sides." It's a story about a group of people who led a community to save itself from violence and greed.
It feels miraculous that this book exists. After the actual insurrection, those involved agreed not to speak of it. As DeRose recounts, "some of the men never spoke of it in public; some never said a word even to their families." There were occasional articles written since the events themselves and even a couple documentaries, but it seems like a story that should be public knowledge. It might be a better world if we saw more examples of people working together as communities, instead of institutions. So whether you agree with that, or just want some interesting stories to bring up the next time you have one of those newfangled in-person conversations, consider giving this book a read.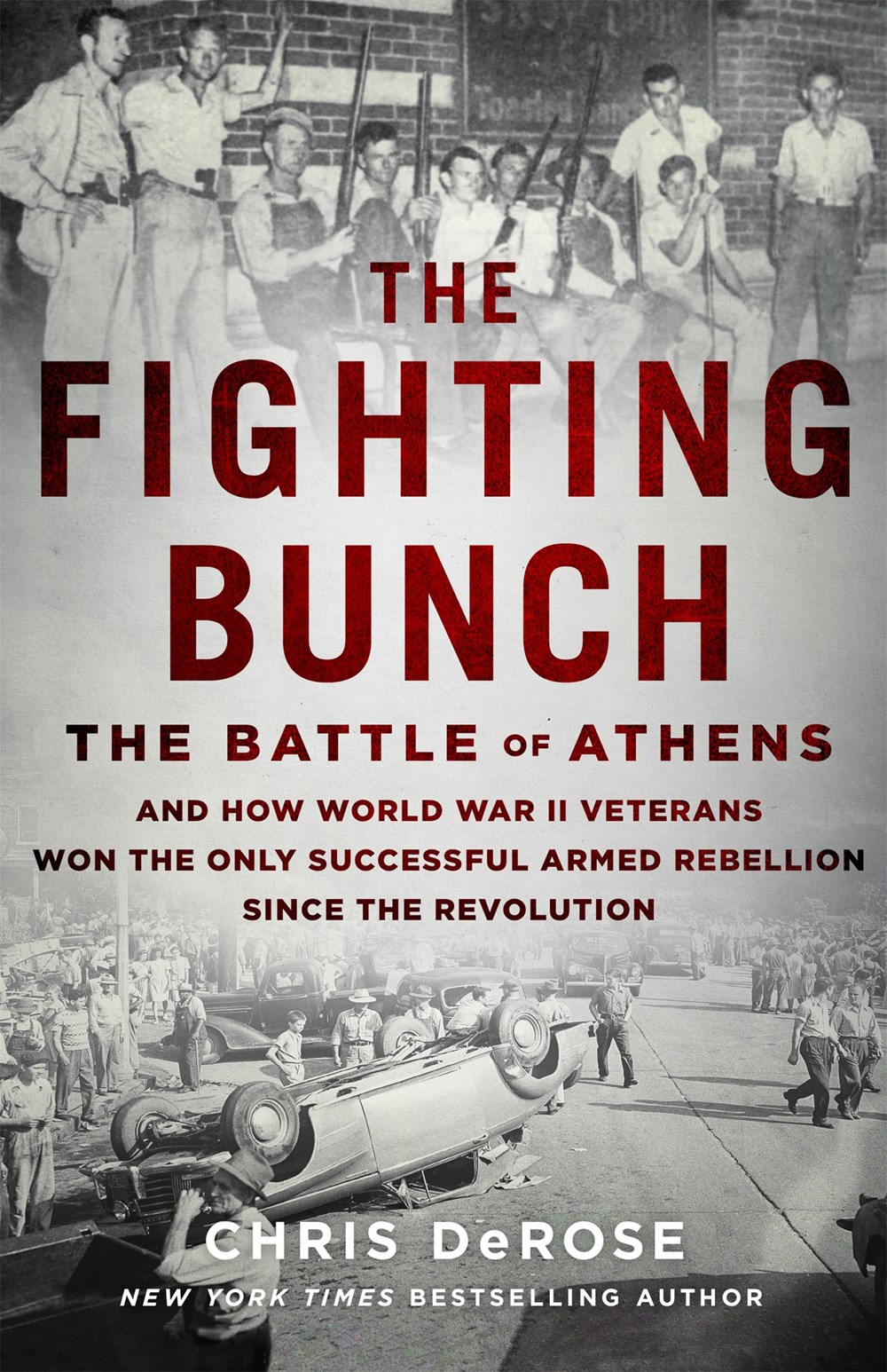 NONFICTION
The Fighting Bunch
St. Martin's Press
By Chris DeRose
November 3, 2020