In her introduction to Teaching When the World is on Fire: Authentic Classroom Advice, from Climate Justice to Black Lives Matter, editor and education researcher Lisa Delpit movingly recounts her experience as an elementary school student during Cold War air raid drills, hiding under her desk as if the laminate and particle board would shield her small body from falling Russian bombs. It seems like a marvel that anyone could crawl out from under their desk after the drills and go about learning their time tables again, just because they believed the adults who told them they'd be safe and protected. In all the decades since, the fact that the classroom is a space where children are nurtured, educated, and protected has not changed — and neither has the fact that that space is still under peril. But the threat facing contemporary students isn't coming from Russia — it's homegrown. The bombs of today are easily named. They are, in no particular order, climate change, racism, school shootings, LGBTQ+ phobia, xenophobia, white supremacy, political polarization, immigration – and with the start of every new school year, the list grows. Teachers have come to wonder how they can tell their students that they'll be safe with any semblance of sincerity. It is a question that desperately needs answering, so that students can feel open enough to learn now and change the world later. What we're talking about here is trust and trust, as the book points out, is a limited and earned resource.
Imagine a teachers' lounge filled with diverse opinions and people — that's Teaching When the World is on Fire. Any peer you might need advice from is there, in that lounge. The collection is divided into easily accessible sections so while a cover-to-cover read is recommended, you can also return to it as needed when you unexpectedly find your class asking questions about climate change, or that one of the "isms" (racism, classism, sexism, heterosexism and so on) has raised its head. While a lot of previously published teaching texts have aimed to be something of a knight in shining armor or surrogate guru to teachers, passing out anecdotal wisdom like roses tossed into the stands or communion wafers, depending on whichever metaphor is chosen, Delpit and her compatriots are far more practical than that.
As educators themselves, they recognize that teachers and classrooms are people and places in process. A sound bite of inspiration is nice for a poster, but it doesn't help navigate those daily on-the-ground moments where judgement calls that shape human beings in the process need to be made. Teaching When the World is on Fire, a compilation from some of the leading voices in American education, promises to be "authentic classroom advice" and aims to be more field guide than hero. Most notably, all of the advice comes from experience and there is a keen focus on empowering over indoctrinating the student. Lest you think that teachers have no business getting "political," Mica Pollock, the Director of the Center for Research on Educational Equity, Assessment, and Teaching Excellence (CREATE) at the University of California, San Diego, reminds the reader that "[n]o matter what our politics are, standing up against hate – and for learning – is the basic work of education."
Jamilah Pitts' essay "Don't Say Nothing," which guides teachers through those moments when words fail, is particularly inspiring. In it, she introduces a helpful practice called "silent dialogue." Who hasn't had a moment in the classroom when an issue arises and the perfect words to meet it simply aren't there? Saying nothing is complicity. Bungling through a difficult topic without thoughtfulness is just as damaging. So the "silent dialogue" presents the educator with a useful tool, a way to carve out space and address these moments, without forcing them to be superhuman.
It would be a mistake to think the collection takes an overly utopian view on schools. It is self-aware about our education system. Vermont-based principal T. Elijah Hawkes takes on a new form of exploring consequences in his course on student-led restorative justice — a necessary practice because, as he says, "[y]ou strive to empower young people to challenge the status quo, and yet getting through any given day demands that you demand that rules as they are be followed. And the paradox is more troubling still: you believe your school can be a place where youth learn the names and ways of oppressors – indeed how to unseat them – and yet you know the schoolhouse is but a few steps from the master's house, and your tools are also his tools, and you are an agent of his state, a nation born and built through genocide and slavery."
If there is a critique of the collection, it's this: sometimes it felt like getting an excerpt of an idea instead of something more comprehensive – the full TED talk was wanted, not just the six minute promo. But to this the answer is: "Teacher, teach thyself." If a student complains about wanting to know more about a specific person or writer in our work, a good teacher encourages them in response to visit a library, or do research, or do anything else to get their hands on more of that writer's material. It isn't a bad thing to be introduced to a new voice and decide to hear more of it. After all, the teacher who forgets that they can and should be taught, who resists the call to put back on the mantle of being the student again, is in dangerous territory.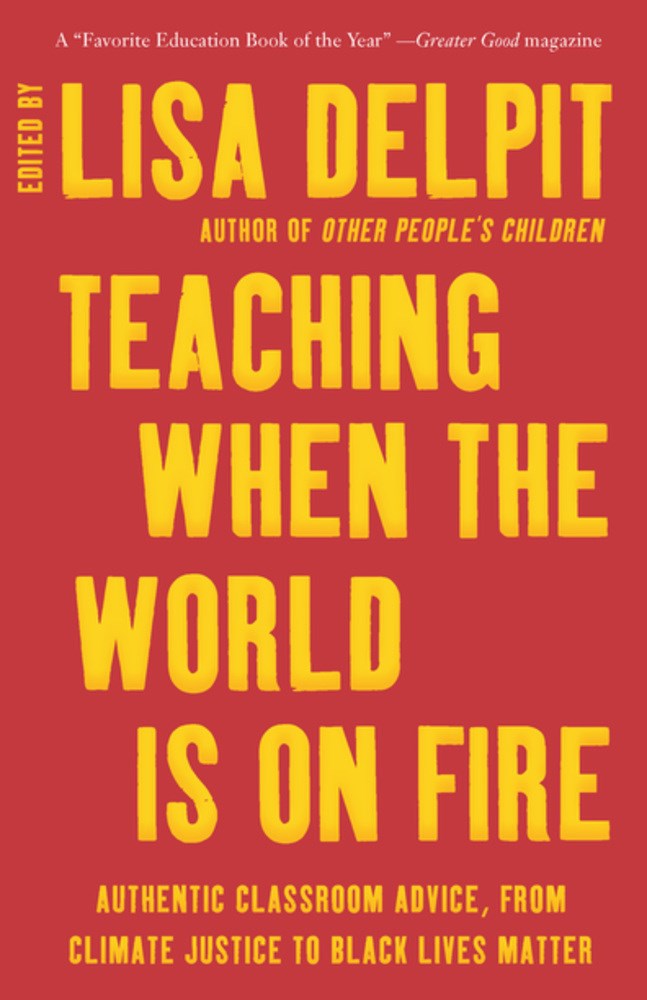 NONFICTION
Teaching When the World is on Fire
Edited by Lisa Delpit
The New Press
Published April 6, 2021